Wednesday, May 5, 2010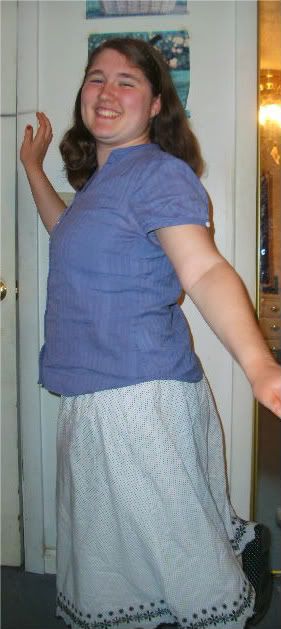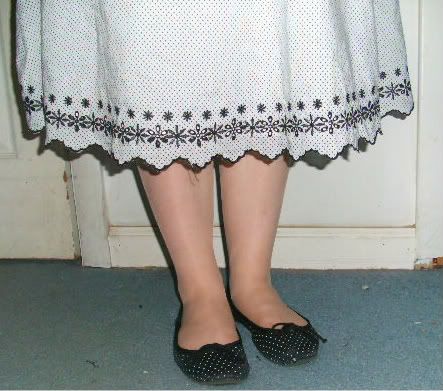 (I love the way the skirt is white with black spots, and the shoes are black with white spots! :-)).

Posted by

Amy Irene
at 7:36 PM
3 comments: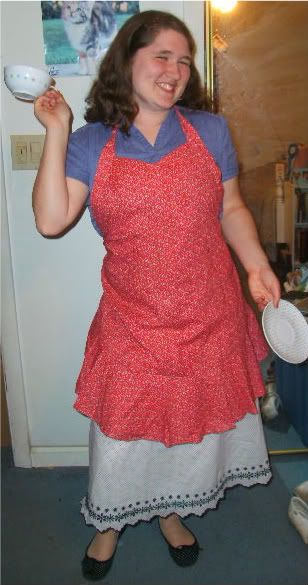 I think every lady should own as many pretty aprons as she possibly can! ;-) They are fun, pretty, practical, and you can hand them down to your Granddaughters someday! (My Grandma still has some of my Great Grandma's aprons! :-)). So here is a post showing off my current collection. (Excluding one red apron - I'm going to decorate that one before showing it off! ;-)).
(Note - Aprons make really good gifts to any lady - And they are fairly easy to make yourself! :-)).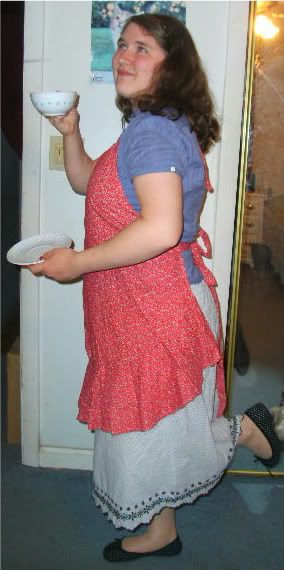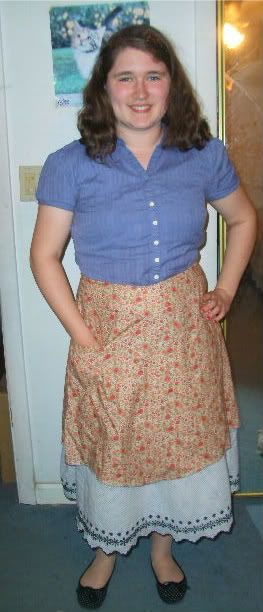 This pretty little half apron I picked up at the Big-E fair last year! It was handmade by someone, and they sold it there. I had a couple dollars to spend, and as soon as I saw this apron I fell in love with it! I recently wore it while working in the garden over my nice white skirt (same one I am wearing in this picture), it really helped keep my skirt nice and clean! :-)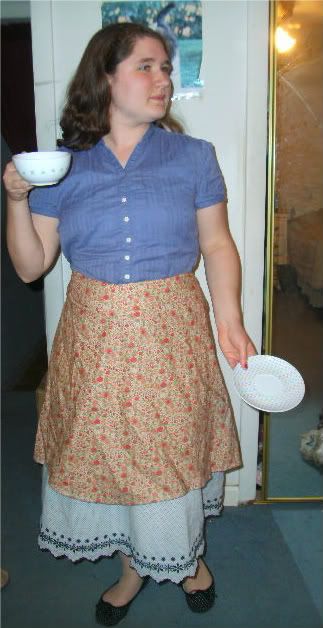 This is an apron I made a couple years ago. :-) I made one for each of my sisters (with my Mom's help! ;-)) for Christmas that year, but different material! :-) I love this apron because is is practical, but still really pretty and has a 1950's swing to it! :-) I love the ruffle at the bottom! :-)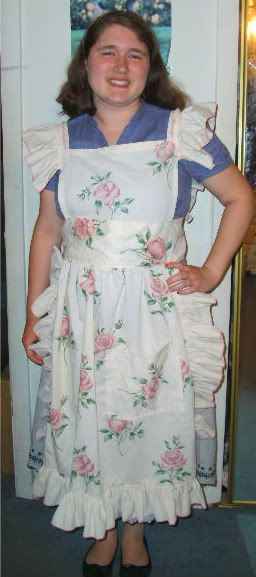 This lovely apron was made for me from a dear friend out of a curtain! It's so fancy, and ruffly! :-) I thought it was such a cute idea to make it out of a curtain, and it's grand to wear it doing laundry, and other things around the house! :-)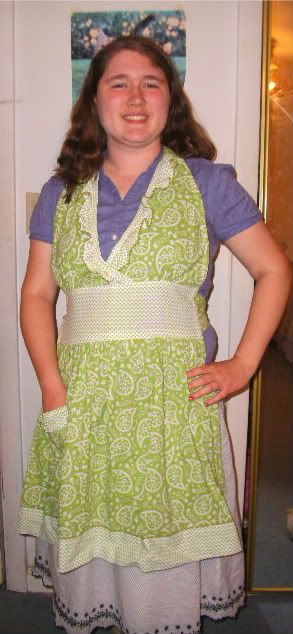 My most recent - a birthday present from my Grandparents! I love how this apron, although modern, does not have the normal, boring, modern pattern and material. Although the tag claimed "not to be my Grandmother's apron", I must disagree! It has the lovely old-fashioned air that I love about my "Grandmother's Aprons"! The green is so summery too!!

Well, I hope you enjoyed this post!! Feel free to do a picture post of your own lovely aprons, and leave me the link in my comments so I can see them! :-)



Posted by

Amy Irene
at 7:17 PM
3 comments: